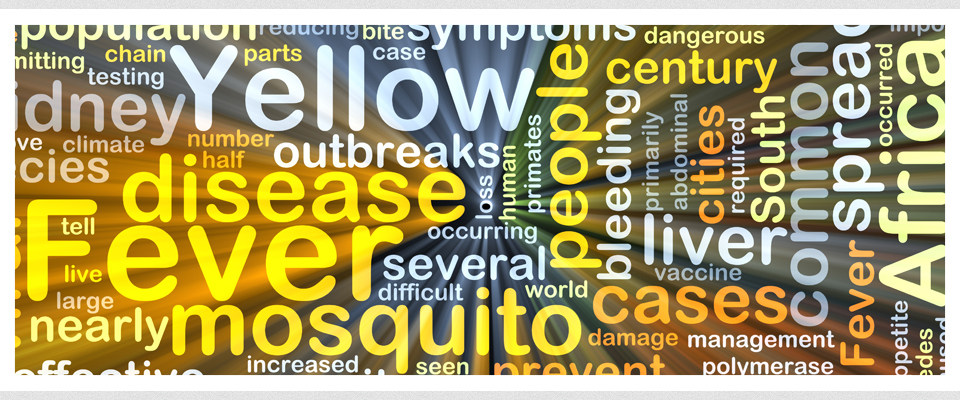 Yellow Fever
CLICK to go back to the HELP page    
This page is intended NOT to give any yellow fever advice but to direct you to the very helpful resources available online.   
Yellow fever vaccine can only be given in a yellow fever centre.  In England, Wales and Northern Ireland the responsibility for the administration of these centres is undertaken by NaTHNaC and in Scotland by Public Health Scotland.  However even if you aren't a yellow fever centre, you still need some knowledge of the disease and its prevention to appropriately refer them on to a yellow fever centre if a traveller needs vaccination.  In this situation is would be very helpful if you are directing your patient from an NHS setting, to provide them with a summary of their medical history, their medications and vaccination history to enable the receiving centre to perform a thorough risk assessment and give appropriate advice.  An individual traveller may not always necessarily have an accurate recollection of these details and this could be important in the decision making process.
Public Health England Resources
GREEN BOOK CHAPTER 35 FOR YELLOW FEVER HERE
Guidance in the event of yellow fever vaccination in travellers with a contraindication or report of a yellow  fever vaccine associated serious adverse event here
Letter from MHRA, PHE, NaTHNaC, HPS Yellow fever vaccine: stronger precautions in people with weakened
immunity and those aged 60 years or older here
IMPORTANT new information from 21.11.19 to the current day
YELLOW FEVER RESOURCES from NaTHNaC
(please note below are just some of the resources but it would be useful to have a thorough look around the website)
YELLOW FEVER RESOURCES from PUBLIC HEALTH SCOTLAND
YELLOW FEVER RESOURCES from the WORLD HEALTH ORGANIZATION (WHO)
YELLOW FEVER RESOURCES from the CENTRES FOR DISEASE CONTROL AND PREVENTION  (CDC)
Yellow fever travel information here  (Note this includes a very useful interactive map of the yellow fever in Brazil where you can identify exact locations and whether vaccine is advised according to the US recommendations).
CDC Yellow fever website here
Yellow Fever Vaccine Information for Healthcare Providers here  (note this is advice from the US perspective and if working in the UK you need to follow our guidance).
Further addition resources
NHS Choices information on yellow fever
Resources by images